July 09, 2013 | Posted by :
Kevin Alvarez
|
In The News
|
Comments Off

on Steven Alvarez, Apollo Beach Accountant, Elected Into St. Leo University Atheltic Hall Of Fame
»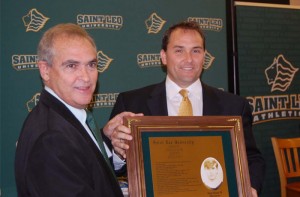 Steven Alvarez, an enrolled agent, accountant and director with the Apollo Beach accounting firm Alvarez Company, PA CPA Firm, was recently inducted into the St. Leo University Athletic Hall of Fame.
He was captain of the 1993 soccer team and led the Sunshine State Conference in assists that year with 13. Graduated as career assist leader (currently second) with 34, third all-time leading scorer in points (66), and tied for first (69) in games played. Set school season record for assists 1991, 1992 and, 1993. He still holds the school record for most assists in a game (5).
A four-year starter he was two-time Honorable Mention All-Sunshine State Conference 1991 and 1992 as well as Commissioner's Honor Roll for 1991, 1992 and 1993. He was also named First Team All-Tournament in Kickoff Classics in 1992 and 1993.
Fran Reidy current Athletic Director at the University and Steven's soccer coach referred to him as a "cornerstone player in the transition of the program to a perennial winner".
A Presidential Academic Scholarship winner from Jesuit High School, he was selected to the Honors program for three years and was St. Leo Student of the Month for February 1994. Was a member of Delta Epsilon Sigma National Honor Society and graduated with a degree in accounting in 1994.
In addition to being a director at Alvarez Company PA CPA Firm, Steven also serves as a volunteer on the Board of Directors of local organizations including the SouthShore Chamber of Commerce.
There is no related post.